A man's decision to drive after completely stuffing his car with branches has been described as "absolute madness" by police.
The driver was stopped on Stockport's Heaton Moor Road.
PC Andy Monaghan said he had "never seen anything like it" and the man risked "seriously injuring someone" after his visibility and access to the gear stick was blocked.
The man, aged in his 40s, was reported for a number of driving offences.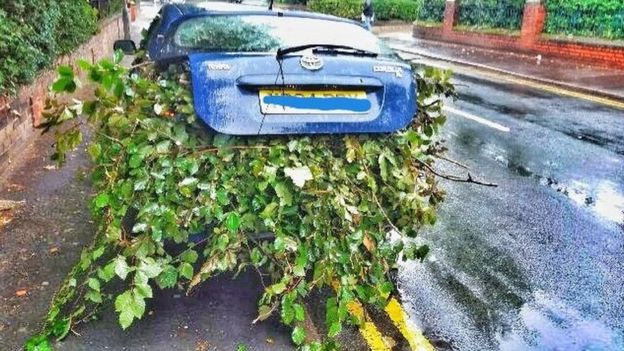 He had been carrying out work for an elderly couple and was taking the garden waste to a tip when he was stopped on 8 September, PC Monaghan said.
"He thought he'd be fine, but the weather was heavy and he had limited control."
The man was made to empty the car before continuing on his way, which meant he had had to make several trips to the tip.
The officer added: "I wasn't shocked because I've previously worked in traffic [but] it was absolute madness."
To check out the full story, please click here.
Getting On 'The Right Road'
Whatever your level of driving experience Surrey Driving Force can offer driving lessons in Surrey to suit you. From driving tests to refresher courses, our friendly and experienced instructors will help you to achieve your goal quickly and affordably.
Competitive rates
Friendly, patient and fully qualified Driving Instructors
Test success in as few lessons as possible
Convenient pick-ups from home, work or school
New, air-conditioned, dual control cars
Reduced driving lesson prices when you block book
Driving lessons seven days a week
As Well As Surrey Driving Lessons We Offer:
Don't Forget!
Theory Test Pro – FREE!
Surrey Driving Force students have full access to premium content via Theory Test Pro whilst learning with us. This is a great resource and really helps our students pass their theory test first time. It's also available as a free app to download on iPhone or Android, where again you can access the premium content.
Currently Browsing: This had bad news written all over it!